Uncontacted tribes threatened by 'thousands of explosions'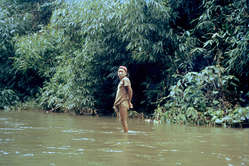 A Nahua man shortly after first contact in 1984. More than 50% of the Nahua died following contact.
© Survival
A pioneer scientific study has revealed how some of the world's last uncontacted tribes are threatened by 'the detonation of thousands of seismic explosives' on their land.
The study says that seventeen large areas in the Peruvian Amazon where oil and gas companies can work include land inhabited by uncontacted Indians.
The potential impacts on the tribes and their land are 'severe and extensive', says the study. These impacts include: 'hundreds of heliports', 'the cutting of hundreds of kilometres of seismic lines', 'the detonation of thousands of seismic explosives', oil spills and leaks, new roads, and the 'unique potential of advancing the agricultural, cattle and logging frontiers', all of which could be disastrous for the tribes 'whose lack of resistance or immunity make them extremely vulnerable to illnesses brought by outsiders.'
'More of the Peruvian Amazon has been leased to oil and gas companies over the past four years than at any other time on record,' says the study, published in 'Environmental Research Letters'.
The study cites drilling in northern Peru by a British company as 'extremely controversial', although it does not mention the company, Perenco, by name. Perenco, which has recently revealed plans to build a pipeline into the region, is working 'within a mega-diverse and largely intact section of the Amazon (where) there is strong anthropological evidence (of) uncontacted indigenous peoples.'
The study says that a massive 72% of the entire Peruvian Amazon is now open for exploration and drilling. Survival is campaigning against exploration in parts of the Peruvian Amazon inhabited by uncontacted tribes.